Jean-Léon Gérôme (French, 1824–1904)
Study for Rachel, 1859
Oil on canvas, 10 3/4 x 6 3/4 in.
Signed lower right: J. L. Gérôme
Members' Art Acquisition Fund Purchase
2005.16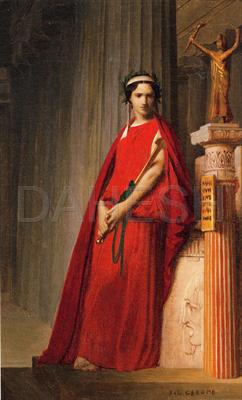 Rachel (Elizabeth Rachel Félix, 1821-1858), a reigning star at the Comédie-Française, was one of the most famous actresses of the 19th century. She and her sister, Sarah Félix, were friends of Gérôme and frequented his studio. Following Rachel's early death, Sarah commissioned a full-length portrait of her sister, which was first exhibited at the Salon of 1861 and then sold to the Comédie-Française, where it still hangs today. This portrait – well known through a photogravure of it published by Goupil & Cie – later played a central role in Henry James's novel The Tragic Muse (1890), in which the character of Miriam Rooth was inspired by Rachel.
The present sketch seems to be the first of four small preparatory paintings made by Gérôme, who drew upon portrait photographs and his own memory of his friend. He portrayed the actress as Melpomene, the muse of tragedy, leaning against a pedestal decorated with a relief of a tragic mask. In the finished portrait, the mask was replaced by the names of playwrights Aeschylus, Sophocles, Euripides, Corneille, and Racine. The painted column supporting a bronze statuette also carries a plaque that, in the ultimate painting, would list Rachel's greatest roles: Phedra, Hermione, Camille, Monime, Roxane, and Pauline. Another important source for this portrait is a Roman fresco (Naples, Archeological Museum) that depicts Medea in a similar pose holding a sword while contemplating the murder of her two sons to revenge her unfaithful husband Jason.