Jean-Léon Gérôme (French, 1824–1904)
Working in Marble, or The Artist Sculpting Tanagra, 1890
Oil on canvas, 19 7/8 x 15 1/2 in.
Signed and dated lower left, on portfolio: J. L. Gerome / 1890
1995.104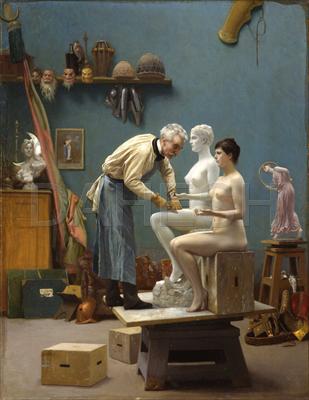 This complex self-portrait is a summation of Gérôme's remarkable career as both painter and sculptor. It is also a commemoration of his famous sculpture Tanagra (1890, Musée d'Orsay, Paris), a stately nude personification of the ancient Greek city, who holds one of the small painted figurines for which the artisans of that city were known. These figurines were discovered and exhibited widely in the late 19th century, reinforcing the notion that classical sculpture was originally vividly colored. Inspired by his characteristic desire for both archaeological accuracy and realism, Gérôme delicately tinted the skin, hair, lips, and nipples of his Tanagra, causing a sensation at the Salon of 1890.
Like most 19th-century sculptors, Gérôme did not carve the marble himself but furnished professional marble cutters with a full-size plaster to use as a guide. It is this intermediate step that is depicted in Working in Marble, a title that refers to the overall creative process. Gérôme portrays himself on a turn stand putting the finishing touches on the plaster version of Tanagra, carefully judging the accuracy of his work against the live model. He is in his second-floor painting studio (which could not actually have housed an unfinished marble of that size), described by a contemporary as a "splendid room, with its great sculptures and paintings, some still unfinished, and a famous collection of barbaric arms and costumes." Indeed, this painting includes many of these props—quiver, saddle, armor, drums, waterpipes, flag, textiles, masks—used regularly by Gérôme to enhance the authenticity of his Orientalist and classical scenes. It also contains several of his finished works: the Tanagra-inspired Hoop Dancer; Selene the moon goddess; and his painting Pygmalion and Galatea (Metropolitan Museum of Art, New York). This small image of a marble sculpture transformed into female flesh provides a mythological gloss on Gérôme's own activity in Working in Marble, powerfully evoking the continuous interplay between painting and sculpture, reality and artifice, as well as highlighting the inherently theatrical nature of the artist's studio.