Jeanne Thil (French, 1887–1968)
Nomad Women Returning from Oued
Gouache on paper, 9 5/8 x 9 5/8 in.
DM447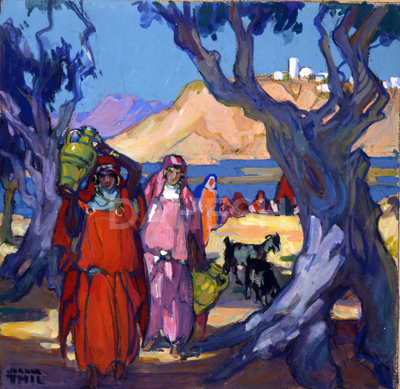 Thil was praised for her ability to penetrate and convey types and attitudes of her Islamic subjects. These paintings feature her hieratic and imposing style, which some critics have interpreted as an indication of her high regard for subjects of "the colonial world." In Nomad Women Returning from Oued this regard is expressed through the woman carrying a jug of water filled from a nearby river, whose strength is mirrored by the mountains in the background. Oueds, also known as wadis, are bodies of fresh water that play an essential and life-preserving role amongst desert communities throughout the Middle East.