Jehan-Georges Vibert (French, 1840–1902)
The View (La Vue)
Gouache on paper, 13 3/4 x 10 5/8 in.
Signed lower right: J. G. Vibert
2003.10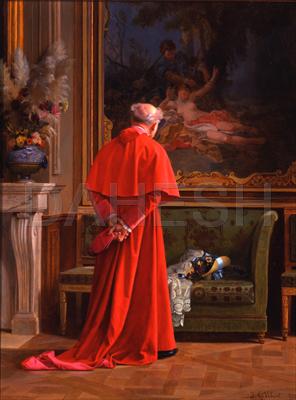 Meticulously finished and brightly colored, Vibert's pictures of resplendently dressed bishops and cardinals engaged in humorous or ordinary activities in their opulent residences had a devoted following, especially in America, where the clergy had wielded less power than in Europe and where there was a tradition of anti-Catholicism among the Protestant upper classes. Depictions such as this one, which slyly suggest the irreligious indulgences of the clergy, were particularly popular. Vibert co-founded the Society of French Watercolorists in 1878 and served as its first president. He also invented a number of products for painters, including special varnishes, brushes, and a red paint, which he named "Vibert Red" and used for his many images of cardinals.