Sir John Gilbert (British, 1817–1897)
The Plays of William Shakespeare, ca. 1849
Oil on canvas, 41 1/2 x 50 1/4 in.
Signed and dated lower right: John Gilbert 1849
1999.2.1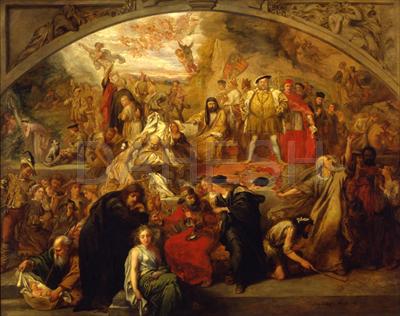 The vibrant characters, sophisticated narratives, and complex emotions of Shakespeare's plays sustained an entire pictorial genre in Victorian England. Gilbert was one of the most versatile and prolific visual interpreters of Shakespearean subjects, working in pencil, watercolor, and oil. In addition to his prodigious output as an illustrator for The Illustrated London News and Punch, Gilbert drew 829 woodblocks engraved for the lavish three-volume Plays of Shakespeare, published in 1858. He showed over 40 Shakespearean watercolors at the Old Water-Colour Society and in 1871 became president of the Royal Society of Painters in Water-Colours.
Gilbert's elaborate masterwork The Plays of William Shakespeare was exhibited to much acclaim in 1850 at London's British Institution. The crowded tableau is arranged as if on a stage, a format adopted from Raphael's School of Athens (Vatican), with the main characters from the tragedies in the foreground, historical figures in the middle, and magical and supernatural beings in the upper region. Gilbert returned to this theme in 1871 with a vertical version called The Apotheosis of Shakespeare's Characters (Yale Center for British Art, New Haven).