John Varley, Jr. (British, 1850–1933)
The School near Bab al-Sha'riyah, Cairo, 1880
Oil on canvas, 20 x 15 in.
Signed and dated lower left: John Varley. 1880
1995.60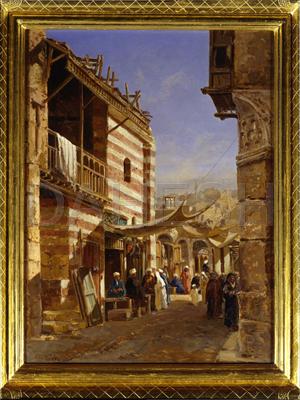 Like many artists from the Victorian era, John Varley Jr. sought to capture the picturesque streets of Cairo that were not touched by the modernization and European-style urban development of the city. Bab al-Sha'riyah, a quarter located in eastern Cairo, is one such example. Here, Varely Jr. depicts a narrow street of closely set buildings and shops with overhangs––a typical street pattern designed to protect from the sun and heat during the long summer months. Locals going about their daily activities, with more buildings and a mosque in the distant skyline lend the image both a realist and authentic air.