John William Waterhouse (British, 1849–1917)
Study for Dante and Matilda, ca. 1914-17
Oil on canvas mounted on wood, 19 1/2 x 24 3/8 in.
1997.44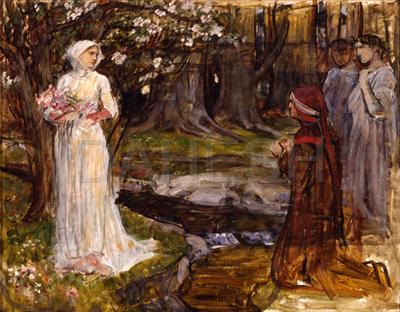 A Victorian painter of myth, poetry, and legend, Waterhouse is noted for his highly individual synthesis of English and French styles. His work explores intense and mysterious subjects which are characteristic of Pre-Raphaelitism presented in the more continental idiom of painterly naturalism. This unfinished picture reflects Waterhouse's late interest in a Pre-Raphaelite thematic touchstone: the spiritualized love celebrated by the Florentine poet Dante Alighieri. The painting depicts the moment in Il Purgatorio, canto 28 when he encounters Matilda, who personifies the active life, as opposed to the contemplative life represented by his beloved Beatrice, who will subsequently lead Dante in his quest for transcendence. The two protagonists are separated by the river Lethe; on the right side where the poet kneels, nature is bleak and the trees barren, while on the left side the trees are flowering. The contrast suggests a passage from one state of being to another—from the sinful state of normal human existence to the spiritual purity that Dante will eventually attain.