John William Waterhouse (British, 1849-1917)
Study for Dante and Matilda, ca. 1914-17
Oil on canvas mounted on wood, 19 1/2 x 24 3/8 in.
1997.44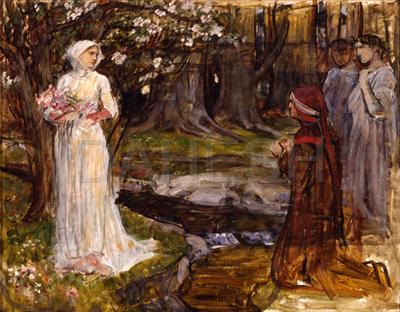 A Victorian painter of myth, poetry, and legend, Waterhouse is noted for his highly individual synthesis of English and French styles, particularly his exploration of the intense and mysterious subjects characteristic of Pre-Raphaelitism presented in the more continental idiom of painterly naturalism. This unfinished picture reflects Waterhouse's late interest in a Pre-Raphaelite thematic touchstone: the spiritualized love celebrated by the Florentine poet Dante Alighieri (1265-1321). The painting depicts the moment in Il Purgatorio when Beatrice arrives to lead Dante farther on in his quest for transcendence. The two protagonists are separated by the river Lethe, in which Dante will forget his own sins; observing them on the far right are the poet Statius (wearing a wreath of laurels) and the flower-gathering guide Matilda.