Joseph Bail (French, 1862–1921)
A Letter From his Father
Oil on canvas, 36 1/2 x 29 in.
Signed lower left: Bail Joseph
2003.9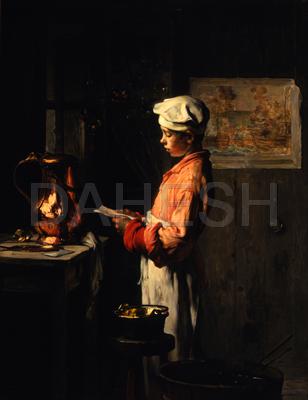 A Letter from His Father is from Bail's popular series of images depicting cooks and their young assistants at work or at play. Here, the young cook assistant standing near a window reads a letter from his father while taking a break from polishing copperware. An illustration of a naval battle with the text: "Bombardement et prise d'Alger" (The bombardment and capturing of Algiers) hangs on the wall behind him. Although Bail worked at a time when avant-garde artists were exploring new subject matter and styles, he embraced a Realist tradition that recalls the 18th-century French painter Jean-Siméon Chardin and Dutch masters — especially their tranquil atmosphere and luminous quality.
Bail began his artistic training with his father Jean-Antoine Bail, a genre painter, and later studied with Jean-Léon Gérôme and Carolus-Duran. After his debut at the Paris Salon of 1878, Bail had a flourishing career specializing in genre scenes, mainly domestic interiors that appealed to the burgeoning middle class. He received numerous medals, including honorable mention in 1885; third-class medal in 1886; second-class medal in 1887; silver medal at the Exposition Universelle in 1889; and a gold medal at the Exposition Universelle in 1900, the year he was nominated Knight of the Legion of Honor.