Jules Clément Chaplain (French, 1839–1909)
Louis Pierre Henriquel Dupont, 1887
Bronze, 3 3/4 in. diameter
2002.44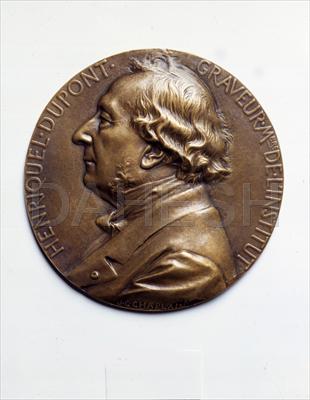 Chaplain won the Prix de Rome for medal-engraving in 1863, and went on to have a highly successful career, including election to the Académie des Beaux-Arts in 1881 and an appointment as Art Director of the Sèvres Porcelain Manufactory in 1896. In 1877 Chaplain became the official medallist of the French government, creating a series of presidential portrait medals. His many animated and realistic medallions of intellectuals and artists, however, constitute his greatest achievement.
Recto: Portrait in profile of the engraver Louis Pierre Henriquel-Dupont (1797–1892). Inscribed:henriquel dupont graveur mbre de l'institut. Signed: j.c.chaplain
Verso: A woman crowned with laurel who manipulates a burin while looking through a magnifying glass. Inscribed: ses eleves ses amis ses admirateurs / en souvenir de l'anniversaire de sa 90ème année 13 juin 1797 13 juin 1887 / hommage de profonde sympathie de chaplain