Jules Clément Chaplain (French, 1839–1909)
Louis Pierre Henriquel Dupont, 1887
Cast bronze, 3 3/4 in. diam.
2002.44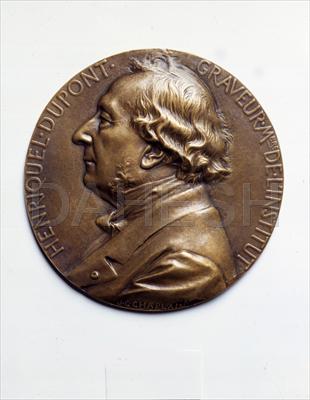 Chaplain won the Prix de Rome for medal-engraving in 1863, and went on to have a highly successful career, including election to the Académie des Beaux-Arts in 1881 and an appointment as Art Director of the Sèvres Porcelain Manufactory in 1896. In 1877 Chaplain became the official medallist of the French government, creating a series of presidential portrait medals. His many animated and realistic medallions of intellectuals and artists, however, constitute his greatest achievement.
Obverse: Portrait in profile of the engraver Louis Pierre Henriquel-Dupont. Inscribed: HENRIQUEL DUPONT GRAVEUR MBRE DE L'INSTITUT. Signed: J.C.CHAPLAIN.
Reverse: A woman crowned with laurel who manipulates a burin while looking through a magnifying glass. Inscribed: SES ELEVES SES AMIS SES ADMIRATEURS / EN SOUVENIR DE L'ANNIVERSAIRE DE SA 90ÈME ANNÉE 13 JUIN 1797 13 JUIN 1887 / HOMMAGE DE PROFONDE SYMPATHIE DE CHAPLAIN.