Aimé-Jules Dalou (French, 1838–1902)
Bather, or Before the Bath, modeled 1890s, cast ca. 1902
Bronze, 21 1/2 in.
Signed and inscribed with foundry mark and number base top right: DALOU / CIRE PERDUE A.A. HÉBRARD / B-3
2002.54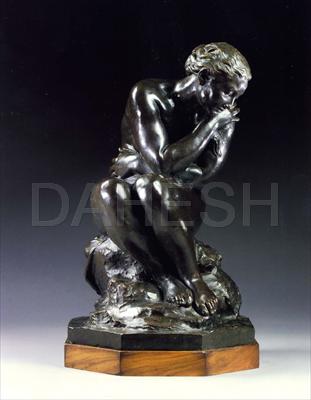 Dalou began to model his first bather compositions during his exile in England between 1874 and 1876, and the subject remained of great interest to him for the rest of his life. The plaster for the present composition is kept in the Musée du Petit Palais in Paris, which has the largest holdings of the artist's oeuvre. A marble version was carved in 1899, but no lifetime bronze casts exist, as the artist discouraged the production of commercial editions of his work. However, several of the models were cast from 1902, first by the Hébrard and subsequently by the Susse foundries.