Jules René Hervé (French, 1887–1981)
Geese
Oil on panel, 8 5/8 x 10 1/2 in.
Signed lower right: Jules R. Herve
DM304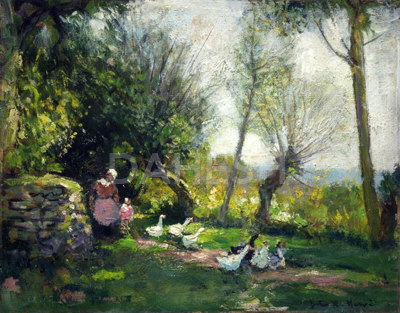 Hervé was best known for his scenes of life in rural France, particularly paintings of his native village Langres and the surrounding countryside. Some of his early works, such as his silver-medal-winning painting L'Adieu (private collection), were inspired by the mid-19th century Realist movement, which visualized the hardships of peasant life––as in  Léon Augustin Lhermitte's Lunch at the Cerverie Farm (Dahesh collection). But in Geese, Hervé has adopted a brighter and more cheery style, with brushwork that recalls the Impressionists. Writing in Le Figaro, the art critic Arsène Alexandre called such works "small paintings of the charming countryside," which aptly describes this domestic parade of a woman and child following after their flock of geese. Hervé painted numerous types of processions, from celebratory marches to solemn corteges, each one capturing a different facet of life in Langres.