Sir Lawrence Alma-Tadema (Dutch/British, 1836–1912)
Joseph, Overseer of Pharaoh's Granaries, 1874
Oil on panel, 13 3/4 x 18 in.
Signed and inscribed upper right: L. Alma-Tadema op CXXIV
2002.38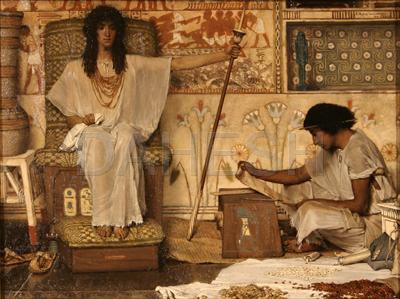 Although Alma-Tadema specialized in scenes from ancient Greece and Rome, he also painted several scenes set in ancient Egypt—including the present work, which was exhibited at the Royal Academy in 1874. Drawn from the Old Testament's Book of Genesis, it depicts Joseph seated on a throne in his role as the Pharaoh's overseer of the royal granaries, while a scribe works on the floor next to him, carefully counting each piece of grain.
Alma-Tadema based the ancient Egyptian decorations and accoutrements in his picture on actual artifacts. He owned a large collection of photographs of archeological sites and objects, and one showed a photograph of a distinctive wig found in a tomb at Thebes. Alma-Tadema patterned Joseph's wig after the photograph, although the wig was believed to have been worn by a woman, not a man. The wall painting behind the figures is from the tomb of Nebamun in the British Museum and the cartouche on the throne is that of Tuthmosis II, who ruled during the Eighteenth Dynasty (ca. 1504–1450 BC), the period 19th-century scholars believed to have coincided with Biblical Egypt.