Sir Lawrence Alma-Tadema (Dutch/British, 1836–1912)
The Staircase, 1870
Oil on panel, 16 3/4 x 3 3/4 in.
Signed upper right: Alma Tadema
2000.18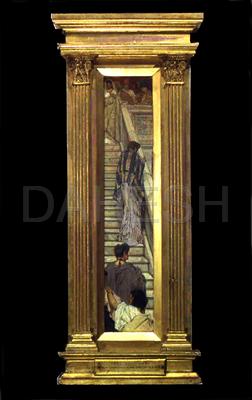 The Staircase was submitted by the artist as a lottery prize to a London exhibition for the benefit of the "Distressed French Peasantry" in districts occupied by the German army during the Franco-Prussian war (1870–71). Alma-Tadema posed himself a formidable challenge in dealing with such an unusually-shaped panel, but his decision to paint four women in Roman dress ascending a marble staircase resulted in a striking image. The painting is in its original frame, which to an extent forms part of the composition— the two classical columns expand upon the implied architectural space and compensate for the narrow width of the panel. Together, the starkly elongated format, the figures seen from the back, and the generic title all construct an enigmatic image that has true cinematographic qualities. Likewise, the manner in which several figures are cut off in the composition, as well as their graceful poses, suggest knowledge of Japanese art, which was extremely popular in Europe at the time, mainly in the form of prints.