Léon Augustin Lhermitte (French, 1844–1925)
Harvester Drinking from a Flask, or The Thirst, 1905
Oil on canvas, 28 x 33 in.
Signed lower left: L. Lhermitte
1996.14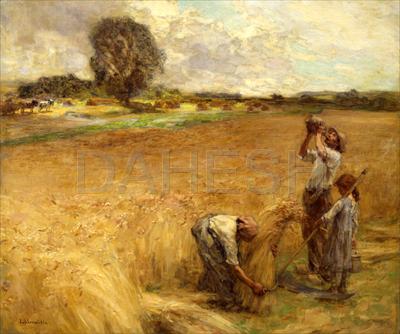 The lives of people living and working in rural France in the late 19th century had basically remained unchanged despite expanding industrialization and urbanization. This enduring and elemental existence was a recurrent motif in the art of Léon Lhermitte, whose images of rustic life reflect the belief that peasants were noble, close to nature, and devoutly religious. Lhermitte's scenes of peasants at work in productive agricultural landscapes, like the present picture (which features models from the family of the artist's gardener), reinforced the Catholic Church's contemporaneous arguments for maintaining the traditional social order and recognizing the dignity of labor.