Léon Augustin Lhermitte, French, 1844–1925
Picking Lilies of the Valley, 1887
Charcoal on laid paper, 15 1/4 x 11 1/4 in.
1996.11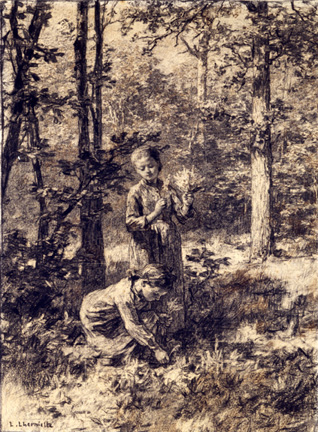 Lhermitte produced this drawing as one of a series of illustrations for André Theuriet's Rustic Life, published in 1888. The illustration accompanies Theuriet's text on women and children gathering lilies-of-the-valley blooms from the forest to sell in Paris:
… Large bunches of these little flowers bring as much as ten sous; and to many poor families in the village ten sous is a godsend. So in the early dawn women and girls, dressed in their oldest clothes, wander through the thickets to gather lily-of-the-valley. Their feet and hands bleed in making a way through the brambles; the sun burns their necks and backs; sometimes a sudden hailstorm wets them to the skin. But still they go on, eager for their harvest….
Lhermitte here instilled the two young girls picking flowers with an aura of innocence and spirituality, reflecting his belief — and that of contemporaries like Jules Breton — in the nobility of peasants. Growing up in the small French village of Mont-Saint-Père in the Aisne, Lhermitte was familiar with rustic life. In 1863, fter receiving a grant to study art in Paris, the artist entered the École Impériale du Dessin, known as the Petite École (Little School) where he studied with Horace Lecoq de Boisbaudran, who taught the concept of painting and drawing from memory. This training served Lhermitte well, and he went on to become one of the most prolific artists of French rural life. Lhermitte received numerous honors from France and other countries, becoming a member of the Institut de France in 1905, Knight of the Legion of Honor in 1884, Officer in 1894, Commander in 1910, and Knight of the Order of St. Michael in Germany in 1892.