Léon Augustin Lhermitte (French, 1844–1925)
Three Washerwomen, ca. 1917
Pastel on paper, 20 x 25 1/2 in.
Signed lower left: L.Lhermitte
1996.13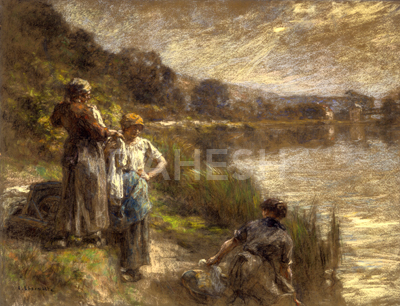 This pastel is one of Lhermitte's numerous compositions of washerwomen,and typifies the technique and style of his late works. The artist initially became famous for his charcoal drawings, which he exhibited in Paris and London, but in the 1880s he increasingly turned to pastels – among other media. Like other late works, Three Washerwomen is freely drawn, where the figures are no longer the central focus of the composition, but rather part of an unobstructed view of the river and countryside. Here, the figures are smaller than in earlier works, and relegated to a corner of the picture, revealing a landscape with stylized foliage that combines Lhermitte's mature naturalism and the Impressionist influence.