Léon-Joseph-Florentin Bonnat (French, 1833–1922)
Jacob Wrestling the Angel, 1876
Pencil and black chalk on paper, 20 3/4 x 14 1/2 in.
Signed and dated lower left: L'Bonnat. 1876
2002.30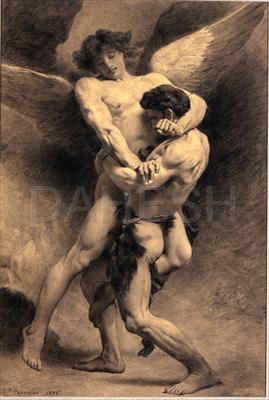 This is either a highly finished study for, or a variant after, a painting that Bonnat exhibited at the Salon in 1876 (location unknown). With its emphasis on tensed musculature and the interaction of anatomical forms, this work illustrates perfectly how integral the numerous life drawings of nude male models (called académies because of their role as the most fundamental part of academic training) were to an artist's formation of fully realized narrative compositions.
As an artist and a teacher, Bonnat was adamant in the fundamental importance of skillful drawing. In a letter translated and published in The American Magazine of Art in 1916, Bonnat declared: "Drawing and form: from those foundations we never stray; we cannot, we ought not to, because they are the conditions absolutely requisite to eternal beauty; and from antique art to contemporary, in passing through all the great epochs…it is by form and drawing alone that the world has been enriched with so many masterpieces."
Jacob Wrestling the Angel illustrates the Biblical passage from Genesis 32:23-31 in which Jacob spends an entire night wrestling with a mysterious angel after crossing the river Jabbok with his family. This enigmatic combat has been variously interpreted as man's struggle against God, against Satan, or against himself.