Louis Abel-Truchet (French, 1857–1918)
Trompe l'oeil of a Painter
Oil on panel and metal, 67 5/16 in. high
Signed on the palette: Abel Truchet; initialed on reverse: AT
2002.24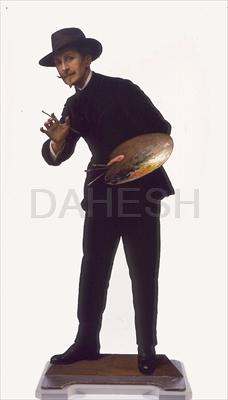 This trompe l'oeil (literally "fool the eye") of a mustachioed painter holding his palette and a paintbrush might be a self-portrait of the artist, who sported similar facial hair and a trilby hat. The purpose of this work is unknown, though perhaps meant to function as a stand-in for the artist at an exhibition or other public event. This work's tight brushwork is not typical of Abel-Truchet, who is best known for landscapes and genre scenes painted in an impressionist manner, but this type of highly finished painting stands in a long tradition, especially still lifes, which are meant to deceive the viewer. By the 19th century, trompe l'oeil painting had fallen out of vogue in France (although it was experiencing a renaissance in the United States).