Louis Ardisson (French, 1848–1930)
Venus and Vulcan, 1878
Carved wood relief, 20 1/2 x 16 3/16 in.
Signed lower right: L. ARDISSON / PARIS / 1878
1999.17.1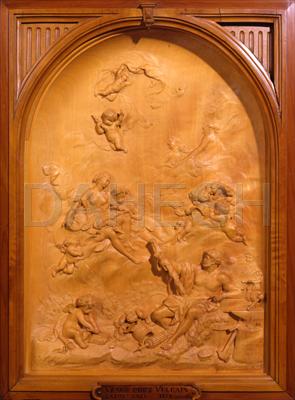 Venus and Vulcan is an exquisitely carved wooden bas-reliefs in a Rococo style, representing the mythological themes of Venus seeking arms from Vulcan for her son Aeneas. This relief was exhibited at the 1878 Universal Exposition in Paris, and won Ardisson a bronze medal. The sculptor is known for his carvings made after works by great18th-century painters as like François Boucher (1703–1770) and Jean-Honoré Fragonard (1732–1806), usually depicting amorous mythological scenes. Venus and Vulcan is directly modeled after Boucher's enormous painting Venus at Vulcan's Forge (1757, Musée du Louvre, Paris).