Louis Robert Carrier-Belleuse (French, 1848–1913)
The Sculptor's Studio, ca. 1870
Oil on canvas, 25 1/2 x 35 1/4 in.
Signed lower left: Louis Carrier-Belleuse 
1996.9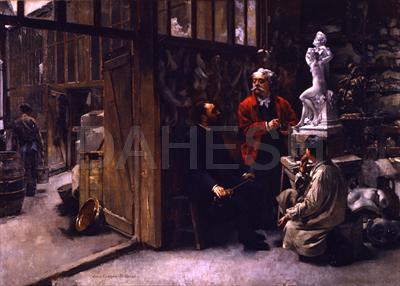 Louis-Robert was the son of sculptor Albert-Ernest Carrier-Belleuse (1824–1887), whose atelier is depicted in the present painting. A sculptor as well as a painter, Louis was trained by his father and, at the École des Beaux-Arts, by Alexandre Cabanel (1823-1889). Albert stands beside one of his works, discussing it with a visitor and a studio assistant. While this plaster of a female nude seated next to a herm has not been identified, it is typical of his frivolously classicizing works that were so popular during the Second Empire (1852–1870) and beyond. The sculpture next to it is known as The Abduction of Hippodamie (L'enlèvement), which shows a centaur carrying off the mythological princess Hippodamia. That sculpture, which is known in various bronze and terracotta editions, is first documented in 1871, which provides some indication to the dating of this painting. Louis's careful depiction of a sculptor's workshop–with tools, smocks, plaster casts, casting equipment, and an assistant glimpsed in the background—enhances the documentary value of this work.