Luc-Olivier Merson (French, 1846–1920)
Diana, 1878
Oil on canvas, 27 x 17 1/4 in.
DM436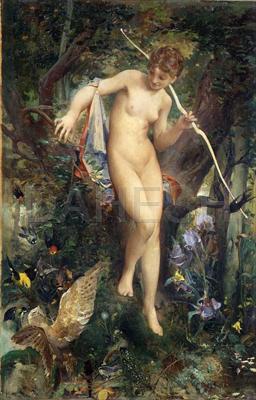 A student of Isidore Pils (1813–1875), Merson won the Prix de Rome in 1869 and studied in Italy from 1870 to 1873. Throughout his life, Merson remained one of the great defenders of classicism and the academic ideal. Here he painted Diana, the goddess of the hunt, as a female nude in a forest setting, continuing a long tradition of such images. While descending a slope, she observes an owl fighting with a flock of smaller birds. Merson not only took great care in representing Diana as a delicate beauty, he also carefully arranged the colorful birds and flowers in order to create a richly adorned background setting.