Ludwig Deutsch (Austrian, 1855–1935)
The Scribe
Oil on panel, 8 3/4 x 6 1/4 in.
1995.18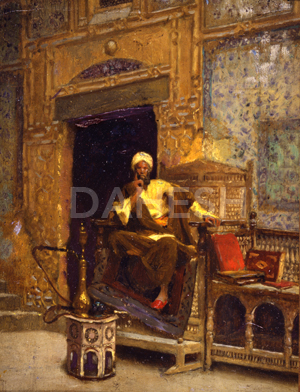 Seated on a raised chair, books and hookah nearby, the sitter appears deep in contemplation as he awaits customers on the street. Public scribes were an integral part of life in Cairo, where they read documents to illiterate patrons and wrote letters in refined calligraphic script. Deutsch painted at least three versions of this work (1896, Private Collection, Houston, TX; 1904, The Najd Collection; 1911, Private Collection) in addition to the present one, though each noticeably differs in architectural details, models, and poses. This piece does not appear to be a study for any of the completed paintings, as the model is unique to this work and the façade of the building is different from other variants. Also different is the subject's expression, as in other versions of The Scribe the sitter is depicted in a state of reverie, looking heavenward. Here, however, the scribe looks directly at the viewer, though his head, resting on his hand, still signifies rumination.