Luigi Bazzani (Italian, 1836–1927)
A Pompeian Interior, 1882
Oil on panel, 28 1/4 x 22 in.
Signed, inscribed, and dated lower right: Luigi Bazzani/ROMA 1882
1996.24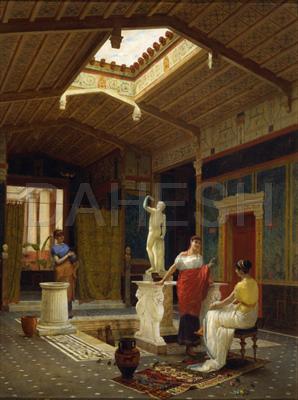 The 1748 rediscovery of Pompeii's amazingly preserved urban fabric inspired many 19th-century artists to imagine scenes from Roman daily life. The anecdotal charm, sumptuous color, and archaeological accuracy of A Pompeian Interior typifies this genre. Like Alma Tadema, the painter of what can be called "everyday antiquity," Bazzani probably relied on readily available photographs of ancient sites to create his compositions. The artist recreates the main central hall or atrium of a Roman villa, lighted by an opening in the roof, and a basin, called an impluvium, to collect rainwater that then flows into an underground container for everyday use. The impluvium and the winged-lion table in this painting appear to be based on those in the House of Meleager in Pompeii, featured in a photograph owned by Alma Tadema, who also used the same table in his painting Glaucis and Nydia, 1867 (The Cleveland Museum of Art).
Luigi Bazzani, also called Bazzanetto, first studied at the Accademia di Belle Arti in his native Bologna, Italy. After traveling to France and Germany, Bazzani settled in Rome, where he specialized in genre and landscape subjects, as well as set designs for theaters. He exhibited regularly from 1893 in Rome, Vienna, Munich, Berlin, and Paris. A teacher of perspective and set design at the Academia di Belle Arti in Rome from 1892 to 1896, Bazzani became a member of academies in Rome, Bologna, and Perugia.