Mac-Alfred Chataud (French, 1833–1908)
Women of the Harem at the Poolside
Oil on Canvas, 21 1/2 x 15 1/2 in.
Signed lower right: A. Chataud
1995.52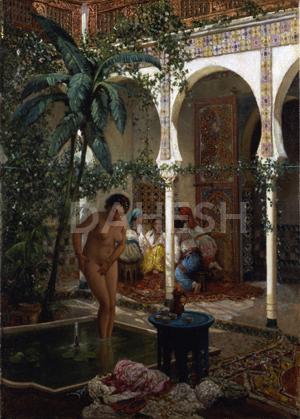 Although Chataud also painted French landscapes, he is best known for his paintings of Algeria, his principal submissions to the Paris Salon. His Women of the Harem at the Poolside was likely painted early in the artist's career, before he moved to Algeria in 1892 and concentrated on recording scenes of daily life and the old quarters of the cities of Algiers and Tlemcen. Women of the Harem at the Poolside is typical of Chataud's initial, more imaginative work and reveals the influence of well-known Orientalist artists like Eugène Delacroix and Henri Regnault—rather than actual exposure to the culture.
Women of the Harem at the Poolside typifies the fantasy of the harem, which the West found more entrancing than any other aspect of North African life. As a secluded space for female family members in an Islamic household, Westerners–especially men–were never permitted to enter harems. This exclusion added to the harem's mythology as a space containing languid women waiting to satisfy the pleasures of the male head of the household. The bathing figure in the middle-ground of the image, whose nudity contrasts starkly with the group of four women in the background, conveys the sensual, erotic tones that typify many imaginary Western harem scenes. All five women are represented within an exotic, non-Western setting of Islamic architectural features —horseshoe arches, ornamental grating, and striking tile work—filled with palm trees, Turkish carpets, and a coffee service.