Marie Hadad (Lebanese, 1889–1973)
The Fortune Teller
Oil on canvas, 41 x 29 1/2 in.
DM792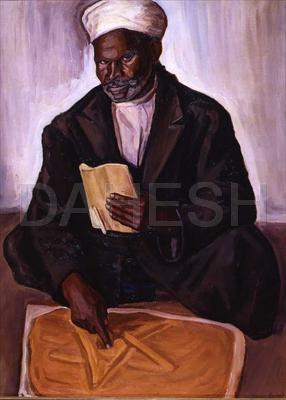 Hadad had her first one-woman exhibition in 1933 at Galerie Georges Bernheim in Paris. One of the paintings, a mountain landscape of Lebanon, was purchased by the French state. Louis Vauxcelles, the critic who had, in 1905, so memorably used the word "Fauves" to describe the painters surrounding Henri Matisse, wrote an appreciative essay on Hadad for the Bernheim catalogue, and continued to support her work throughout her career. She exhibited extensively in Europe during the 1930s, became President of the Lebanese Art Society, and was a featured artist in the Lebanon Republic Pavilion at the 1939 World's Fair in New York. Hadad is best known for expressive and sensitively rendered portraits of people from her homeland. The Dahesh Museum of Art possesses an extensive collection of her work.