Michel Dumas (French, 1812–1885)
Piétà, 1843
Graphite with sepia wash and body color on paper, 4 1/2 x 6 in.
Annotated and dated lower left: couvent de St.Silvestre 25 novembre 1843
Gift of DeCourcy E. McIntosh
2003.28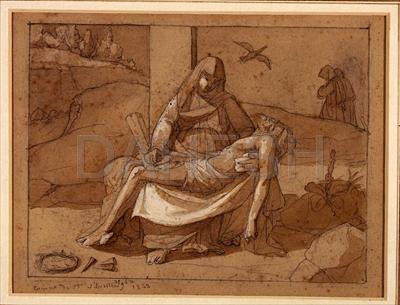 In 1843, the year this sketch was made, Michel Dumas was living in Rome, where he spent his time teaching art to French families and copying Renaissance masterworks. The present work is a piétà, an image of the Virgin Mary supporting the body of her son, Jesus Christ, after his descent from the cross. Stylistically it bears notable similarities to Michelangelo's Piétà (1498–1499), located in St. Peter's Basilica in the Vatican––in both works the Virgin, swathed in heaps of fabric, looks down at her son, whose body hangs limp across her legs, his one arm falling lifeless at his side. Dumas' work, however, is not an exact drawing after Michelangelo, indeed it features numerous other details and differences, including a rugged landscape, the crown of thorns and nails on the ground, and figures in the distance walking up a slope.