Nazzareno Cipriani (Italian, 1843–1925)
Head of a North African Woman
Watercolor over traces of pencil on paper, 15 x 11 in.
Signed lower right: N. Cipriani
1995.49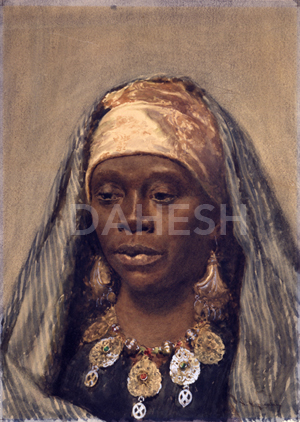 Cipriani was exposed to Orientalism through his connections with the Academy of Gigi Talarici and the Society of Watercolorists in Rome, his friendships with Orientalist watercolorists Filippo Barolini and Enrico Tarenghi, and acquaintance with the Spanish painter Mariano Fortuny y Marsal, who was also drawn to Orientalist themes. Cipriani's Head of a North African Woman reflects these associations. The Italian artist had little knowledge of North Africa himself, but he likely turned to this theme because of the popularity of these images in contemporary Rome. By the later 19th century, representations of beautiful exotic women in vibrant clothes and luxurious jewelry were admired as studies of beauty rather than ethnographic studies characterizing earlier artistic portrayals of North Africa. With the expansion of photography, such images of non-Western figures became less about recording likenesses than producing an engaging work of art. Cipriani's lack of first-hand knowledge of the region and the people, therefore, would not have impeded his creating this watercolor of a Head of a North African Woman. The artist depicts a portrait bust view of a dark-skinned woman wearing a beautiful striped head wrap and lavish gold jewelry—both items that would have indicated her foreign-ness to Cipriani's Italian audience. His Head of a North African Woman is not a portrait of a specific individual, but an image of an anonymous woman. She sits before a solid cream-colored background, blankly gazing into the distance. Although Cipriani has beautifully rendered her attire, the image's focus is not upon the specific details that would identify her home, but upon the picturesque figure's expression of a somber self-absorption.