Niels Christian Hansen (Danish, 1834–1922)
Portrait of Princess Alexandra of Denmark, 1863
Oil on canvas, 26 1/2  x 20 1/2 in.
Signed and dated lower right: N. Chr. Hansen. 1863
2000.15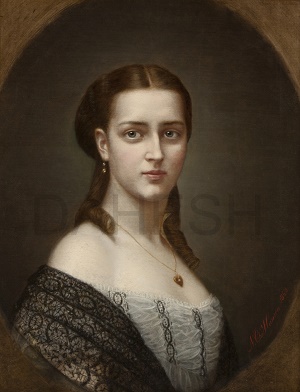 Hansen's painting of Princess Alexandra is based on a photograph taken by his brother, Georg, who ran a photography studio in Copenhagen. Among Georg's clientele was the Danish Royal Family, including Princess Alexandra, whom he photographed shortly before she moved to England to marry Queen Victoria's eldest son and the heir to the British crown, Prince Albert Edward. Princess Alexandra was widely celebrated for her good looks––Edward's sister called her "outrageously beautiful"––and once in Britain she sat for some of the most famous portraitists of the 19th century, including Franz Xaver Winterhalter (1864, Royal Collection Trust), Luke Fildes (1905, Royal Collection Trust), and François Fleming (1908, Royal Collection). Hansen's portrait however does not show Alexandra in the resplendent jewels and fine gowns seen in these later works, but rather she is dressed simply, a reflection of the modesty and simplicity that made her beloved to the people of Britain and Denmark.