Niels Holsøe (Danish, 1865–1928)
A Room Interior with a Chinese Vase, ca. 1919
Oil on canvas, 18 x 27 1/4 in.
Signed lower left: N. Holsoe
2005.12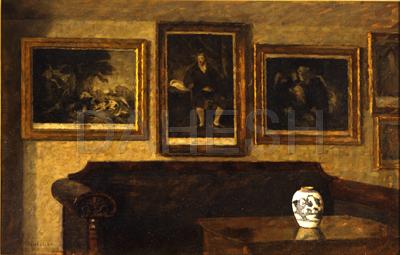 In Niels Holsøe's A Room Interior with a Chinese Vase, the one object not subsumed by the almost monochrome palette is the Chinese vase displayed on the coffee table. Like most of Europe, Denmark was enamored with Chinese blue-and-white porcelain, leading to the establishment of the Royal Copenhagen Porcelain Manufactory in 1775. The production of Chinese-influenced porcelain had the two-fold objective of eliminating foreign importation and raising Denmark's artistic status. In Arthur Hayden's 1911 history of Royal Copenhagen Porcelain, he stated, "The original design is of Chinese origin; in common with other forms of decorations, centuries old, followed by all European potters in early days when the art of making true porcelain was discovered in the West. But, like many another transplantation in art, it found congenial atmosphere, and has become national to the country of its adoption." Following the founding of a national porcelain manufactory, the only foreign porcelain permitted to be imported into Denmark was Chinese—like the object prominently displayed in the foreground (and identified in the title) of Holsøe's image.