Owen Jones (British, 1809–1874)
Arabian No. 3 (pl. 33)
From The Grammar of Ornament. London: Day and Son, 1856
Color lithograph, 22 x 14 3/4 in.
2010.1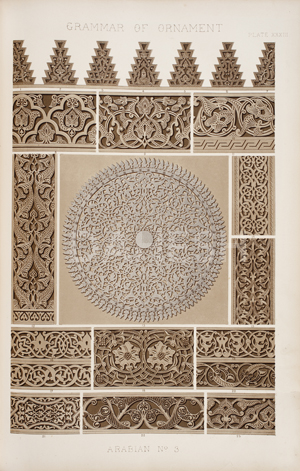 Owen Jones, among the most influential art theorists in mid-19th century England, was a renowned architect and designer, and a leading exponent of a modern style rooted in the principles of Islamic design. His travels to Egypt and particularly southern Spain, where he was fascinated by Islamic architecture and ornament, deeply influenced his design theories about flat patterns, geometry, and color. Jones and his friend, the French architect Jules Goury, conducted detailed studies of the Alhambra palace in Granada — an extraordinary architectural legacy of Moorish Spain's last bastion, especially the 14th-century Nasrid palaces, a favorite subject for contemporary writers and painters. Plans, Elevations, Sections and Details of the Alhambra appeared in two magnificent volumes (1842–1845), a pioneering record of Islamic architecture and the first major work to use the new process of chromolithography (color printing).
In 1856, Jones published his best known and most influential work, The Grammar of Ornament, summarizing his design principals. This lavish publication includes 20 chapters, each with explanatory text on ornaments from very different sources, including Greece, China, medieval Europe, and the Islamic world. In his book, Jones established 37 propositions or guiding principles for the "arrangement of form and color," in an effort to save Victorian design from its perceived decline. Jones believed that forms of nature inspired the best ideas for decoration, stating that "all lines should flow out of a parent stem," and cites this concept as an Oriental practice.