Pascal-Adolphe-Jean Dagnan-Bouveret (French, 1852–1929)
Three Studies of a Man's Head in Profile
Top Right: Study after lo Spinario
graphite on wove paper, 5 5/8 x 9 in.
Gift of Mrs. Noah L. Butkin
2003.3
Lower Right: Study for In the Forest, 1892
oil paint on canvas, 7 1/2 x 12 in.
Gift of Mrs. Noah L. Butkin
2003.2
Left: Studies for In the Forest and Thorn Puller (lo Spinario)
red crayon, conté crayon, and charcoal on laid paper, 11 1/2 x 8 1/2 in.
Gift of Mrs. Noah L. Butkin
Pencil and red crayon on paper, 11 11/16 x 8 3/16 in.
2003.1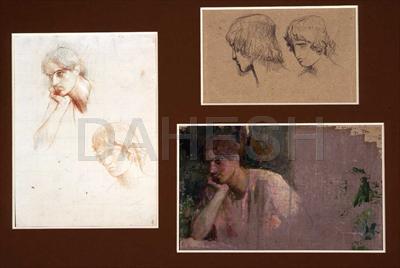 These three sketches follow the typical working process of an artist developing a composition in various degrees of finish before starting the final canvas. The basis is a study after lo Spinario or The Thorn Puller, a well-known Greco-Roman bronze today in the Palazzo dei Conservatori, Rome, and copied many times, beginning in the Renaissance. Dagnan-Bouveret worked from a bronze version of the sculpture, creating two graphite sketches of the face from different views. The artist revisited lo Spinario in red crayon, conté crayon and charcoal, using this study to guide his drawing of a live model. Like many academic artists of his generation, Dagnan-Bouveret used oil studies (as well as photographs) in the preparation of a final composition. The lo Spinario studies represent only one of nine figures depicted in the final painting, In the Forest, 1892 (Nancy, Musée des Beaux-Arts).
A pupil of Jean-Léon Gérôme at the École de Beaux-Arts, Paris, Dagnan-Bouveret won the Prix de Rome in 1876, a year after his Salon debut. At first, he specialized in mythological subjects, but like his close friend Jules Bastien-Lepage and other contemporary artists, he wanted to revivify the academic canon and began exploring modern themes. Influenced by realism and naturalism, Dagnan-Bouveret quickly focused on anecdotal genre paintings such as La Noce chez le photographe (Wedding at the Photographer's, 1878–1879, Musée des Beaux-Arts, Lyons) and L'Accident (The Accident, 1879, Walters Art Museum). By the 1890s, however, Dagnan-Bouveret abandoned his naturalist style and shifted towards religious symbolism. Officially recognized and honored, the artist was named Officer of the Legion of Honor in 1891 and member of the Institut de France in 1900.