Paul Delaroche (French, 1797–1856)
Peter Paul Rubens (Study for the Portrait of Peter Paul Rubens in The Hemicycle, École des Beaux-Arts, Paris), ca. 1837
Pencil and charcoal heightened with white on paper, 8 1/2 x 6 7/8 in.
Stamped lower right: PD
2002.26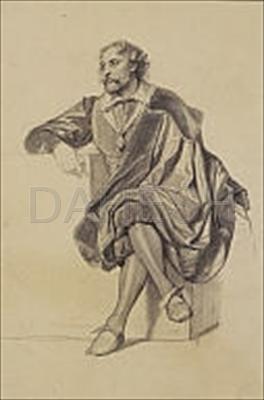 Delaroche's panoramic mural The Hemicycle, decorates the auditorium of the École des Beaux-Arts in Paris (see photograph). He and four assistants worked on this monumental tribute to the liberal arts from 1837 to 1841. Borrowing compositional and thematic elements from Raphael's fresco The School of Athens (1508–11, Stanza della Segnatura, Vatican, Rome) and Jean-Auguste-Dominique Ingres's Apotheosis of Homer (1827, Louvre, Paris), Delaroche portrayed 75 international painters, sculptors, and architects spanning five centuries. This highly finished preparatory drawing represents one of the masters in this ideal artistic gathering, the Flemish Baroque painter Peter Paul Rubens (1577–1640), who was also a diplomat, scholar, and linguist. While his style, rich in color and movement, dramatically influenced his contemporaries, it was also a key source of inspiration for French Romantic painters such as Géricault and Delacroix.
Paul Delaroche, The Hemicycle (1841, oil on canvas), in situ at the École des Beaux-Arts, Paris