Paul Delaroche (French, 1797–1856)
Pierre Puget (Study for the Portrait of Pierre Puget in The Hemicycle, École des Beaux-Arts, Paris), ca. 1837
Pencil and charcoal heightened with white on paper, 9 5/8 x 6 3/4 in.
Stamped lower right: PD
2002.40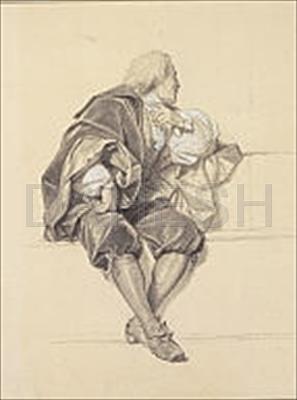 Delaroche's panoramic mural The Hemicycle, decorates the auditorium of the École des Beaux-Arts in Paris (see photograph). He and four assistants worked on this monumental tribute to the liberal arts from 1837 to 1841. Borrowing compositional and thematic elements from Raphael's fresco The School of Athens (1508–11, Stanza della Segnatura, Vatican, Rome) and Jean-Auguste-Dominique Ingres's Apotheosis of Homer (1827, Louvre, Paris), Delaroche portrayed 75 international painters, sculptors, and architects spanning five centuries. This highly finished preparatory drawing represents Pierre Puget (1620–1694), the French Baroque sculptor, painter, and architect, whose famous works include Milo of Crotona (1671–1683, Louvre) and Perseus and Andromeda (1675–1684, Louvre).
Paul Delaroche, The Hemicycle (1841, oil on canvas), in situ at the École des Beaux-Arts, Paris