Peder Mønsted (Danish, 1859–1941)
Heather-covered Hills by the Lakes near Silkeborg, 1907
Oil on canvas, 48 x 79 in.
Signed and dated lower left: P. Monsted 1907
2013.10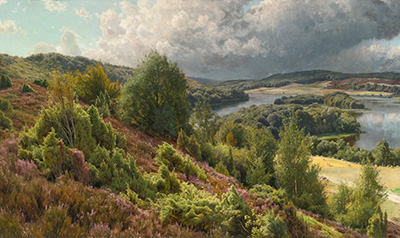 Born at the tail end of the "golden age" of Danish painting, Mønsted established his reputation primarily as a naturalist landscape artist — especially admired for his poetic views of nature. He trained at the Copenhagen Academy from 1875 until 1879 but left without taking his final examination and continued to study independently with other artists, including the French academic painter William-Adolphe Bouguereau. Mønsted lived in Denmark but continually traveled in Italy, France, Switzerland, Norway, Algiers, Egypt, and Greece, exhibiting his works in his native country as well as in Paris and Munich. He also painted portraits, including Portrait of a Nubian (in the Museum collection). Heather-covered Hills by the Lakes near Silkeborg demonstrates the artist's skill in capturing the light, air, and movement of the clouds. Silkeborg is located on the banks of the River Guden — Denmark's longest waterway, renowned for the abundant flora and fauna on its banks.