Philibert-Léon Couturier (French, 1823–1901)
Chicken and Birds
Oil on canvas, 14 x 10 1/2 in.
DM83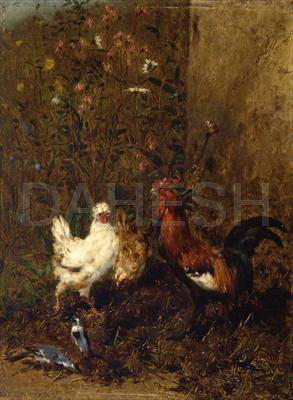 Chicken and Birds depicts a rooster, two hens, and two smaller birds within an unspecified outdoor setting. Scenes of farm life had been created since the 17th century, but they became increasingly popular in the 19th century, when the growth of cities and industrialism generated nostalgia for rural life. The expansion of genre painting (or scenes of everyday life) at this time was also a response to the Realist movement of the mid-19th century, which emphasized a "truth to nature" over grandiose mythological or biblical scenes. While the subject matter of Chicken and Birds is typical of Couturier's oeuvre, the visible loosely applied individual strokes differentiates it from many of his other farm scenes.