Philippe Pavy (French, 1860–ca. 1920)
A Cairo Market, 1890
Oil on panel
Signed and dated lower right: Ph. Pavy 1890
1995.113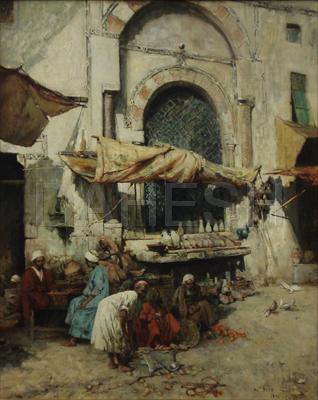 Philippe Pavy and his brother Eugène specialized in Orientalist paintings after traveling to North Africa and the Near East in the 1870s and 1880s. Pavy produced various Orientalist themes of costumed natives practicing their trade or in their characteristic ethnic settings, which he regularly exhibited in Paris and London. He usually painted compositions of Nubian soldiers, water-carriers, orange vendors, processions, and market scenes on wood panel, like this painting. Pavy's talent for light and color is evident in this immensely detailed image, featuring sellers, basket, bread, oranges, pigeons, water jugs, two figures playing a board game, and another playing the lute.