René Ménard (French, 1862–1930)
The Bath of Diana, ca. 1920
Oil on canvas, 33 1/2 x 48 1/2 in.
Signed lower left: E. R. Ménard
DM38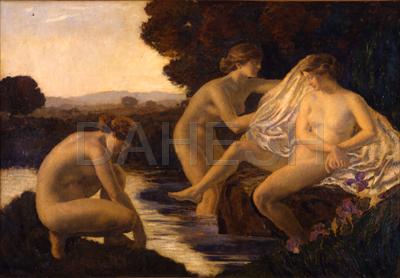 The Bath of Diana reflects Ménard's interest in ancient sources through its subject matter—a mythological episode long favored by artists. Without the title, however, Ménard's subject is not readily identifiable—absent is the goddess's insignia of bow and quiver, leaving only a nude female figure attended by a companion and a third woman kneeling at the water's edge. Ménard created at least two versions of The Bath of Diana in 1920. The other, exhibited at the Paris Salon of 1921, portrayed a more expansive scene than the version in the Dahesh collection—with five bathing female figures and two deer. In 1921, La Revue de l'Art Ancien et Moderne complimented Ménard's integration of natural truth and mythological fiction, asserting that such a combination demonstrates the malleability of nature and landscape painting. Ménard's oeuvre exemplifies how the classical vocabulary continued to inspire artists well into the twentieth century, and how such works form a bridge from Neoclassicim to the Symbolist movement.