Rosa Bonheur (French, 1822–1899)
Herd of Sheep in the Pyrenees, 1868
Watercolor, 14 7/8 x 21 5/8 in.
Signed and dated lower right: Rosa Bonheur 1868
Gift of Mrs. Mervat Zahid
1997.37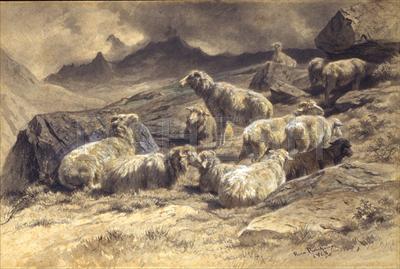 Bonheur was proud of having avoided traditional academic training at the École des Beaux-Arts, claiming she was a student of nature and of her father Raymond (1796–1849), a painter and ardent Utopian Socialist who advocated equality for women in all endeavors. Animals were her passion, and she observed them closely in the countryside, zoos, and at her own country estate, where she kept a variety of animals, including lions. This lyrical watercolor, perhaps executed on the spot during a trip to the Pyrenees, provided Bonheur with motifs she repeated often in both painting and sculpture.