Rosa Bonheur (French, 1822–1899)
Studies of a Horse and Rider
Graphite on white wove paper, 11 3/4 x 17 3/4 in.
Stamped signature lower right: Rosa Bonheur. Red wax seal on backing verso: ROSA BONHEUR VENTE 1900
1998.2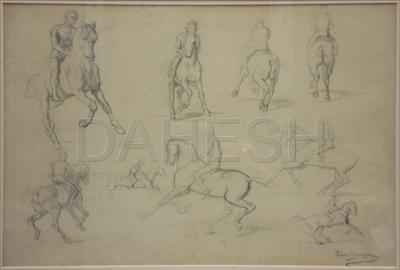 Rosa Bonheur was one of the most famous animal painters of the 19th century. In an era when pursuing a serious career as an artist was extraordinarily difficult for women, she achieved international fame, won the highest artistic and government awards, and was the first woman to be made Knight of the Legion of Honor in 1865. Her artistic talent was evident at an early age and was encouraged by her father, Raymond Bonheur, a painter and ardent Utopian Socialist, who advocated equality for women in all endeavors. She was proud of having avoided traditional academic training at the École des Beaux-Arts —which began only to accept women students as of 1897–, claiming she was a student of her father and "of beautiful nature." Animals were her passion, and expressed her love of them in works like this study, which may be related to The Horse Fair (1883) in the Metropolitan Museum of Art, Bonheur's crowning achievement and among the most famous paintings of the 19th century. This sheet of horses and riders in mid-stride displays Bonheur's accurate rendering of the horses' powerful musculature. She carefully observed nature, often visiting horse fairs and slaughter houses—dressed in men's clothing for comfort, a habit she continued for the rest of her life—, and created numerous studies before executing full-scale paintings. For Bonheur, the preparatory study, the rough draft, the sketch, and photographs were important building blocks, not only for a particular work, but as references that she often used for future creations.