Rudolf Ernst (Austrian, 1854–1932)
The Metal Workers
Oil on panel, 24 1/4 x 19 1/4 in.
Signed lower left: R. Ernst
1996.16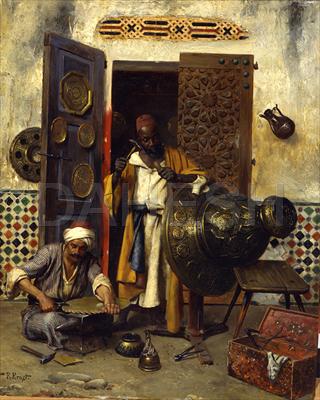 A devoted Orientalist, Ernst concentrated on mosque and harem interiors, as well as other scenes of daily life in North Africa and the Middle East. He based his paintings on photographs and prints, as well as on his own memories and sketches of Morocco and Constantinople (present-day Istanbul), and frequently relied upon favorite patterns or objects from his personal collection. Unlike some of his peers, whose approach to these subjects was strictly topographical or ethnographic, Ernst often combined architecture, artifacts, and costumes of diverse cultures. His intensely detailed images glow with jewel-like color and are energized by the complex interplay of rich fabrics, decorative tiles, and intricate metalwork.