Rudolf Ernst (Austrian, 1854–1932)
Tiger in the Mountains
Oil on panel, 91/4 by 13 in.
Signed lower right: R. Ernst
2012.5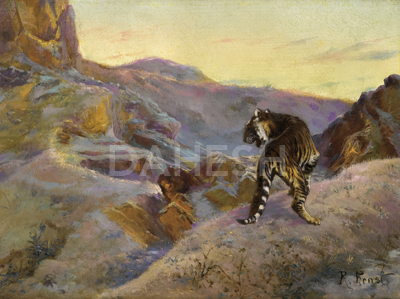 Famous for his exquisite images of daily life in the Middle East, Ernst also produced striking images of tigers at rest, being hunted, as a pasha's pet, or on the prowl as in Tiger in the Mountains. The famed Orientalist artist Jean-Léon Gérôme significantly influenced Ernst, evident in this composition, where a magnificent tiger on a mountain ridge observes an obscured prey or potential mate, reminiscent of Gérôme's own Tiger on the Watch (ca. 1888, Museum of Arts, Houston). Late Romantic images by painters and animal sculptors, including Antoine-Louis Barye, found a ready audience in the late 19th century among wealthy French patrons who longed to escape the monotony of "civilized" modern life.
Tiger in the Mountains is remarkably different from Ernst's more detailed, highly polished, and vividly rendered Orientalist compositions that juxtapose multiple figures, architecture, and decorative motifs. In this work, his looser brushstrokes reveal a solitary animal in a vast, mountainous terrain, and his subdued color palette of violet, blue, and ochre evokes the first rays of morning light.