Sidney Richard Williams Percy (British, 1821–1886)
Little Langdale, Westmoreland, 1870
Oil on canvas, 24 1/8 x 38 in.
Signed and dated lower right: SR Percy. 1870
Gift of Mrs. Mervat Zahid
1999.19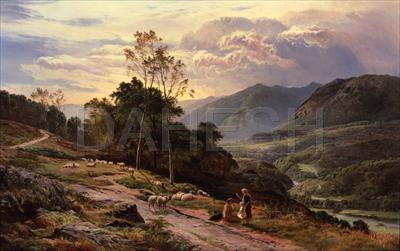 Percy was among the most prolific and fashionable painters of the Victorian era. He exhibited more than 300 paintings during his lifetime, 48 of them at the Royal Academy. The fifth son of landscape painter Edward Williams (1782–1855), Sidney Williams used the name of Percy to distinguish himself from his family members. Percy was also a descendant of James Ward (1769–1859), whose Farmyard (1811) belongs to the museum's collection. Percy found his motifs in England, Scotland, and on the Continent, but his favorite scenery was in the craggy, heather-filled hills of Wales.