Sir John Gilbert (British, 1817–1897)
Key to The Plays of William Shakespeare, ca. 1849
Ink and wash on paper, 8 3/4 x 13 1/2 in.
1999.2.2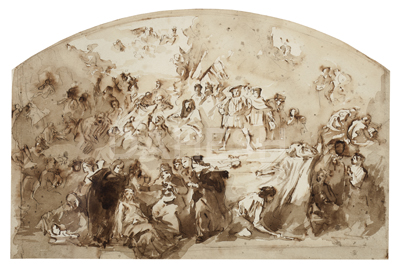 In this preparatory drawing for Gilbert's 1849 masterwork The Plays of William Shakespeare, the artist provided a key to the identities of the nearly sixty characters depicted in the image.
 
The foreground is comprised of the main characters from some of Shakespeare's best-known comedies and tragedies, from left to right: Catherine and Petrucchio from The Taming of the Shrew (spelled "Katharina" and "Petruchio" in Shakespeare's play); Romeo, Juliet, and the Nurse from Romeo and Juliet; the Old Shepherd from A Winter's Tale; Hamlet, Ophelia, the Queen (Gertrude), and King (Claudius) from Hamlet; Shylock, Portia, Bassanio and Antonio from The Merchant of Venice; King Lear, Mad Tom, and the Fool from King Lear; and Othello, Desdemona, and Iago from Othello.
 
The middle register depicts additional figures drawn from Shakespeare's comedies and tragedies as well as important figures from his history plays: figures from Love's Labour Lost; Lance and his dog from Two Gentlemen of Verona; Jacques from As You Like It; Malvolio, Olivia, and Maria from Twelfth Night; Prospero, Miranda, Caliban, and Ariel from The Tempest; Falstaff and the Merry Wives of Windsor from The Merry Wives of Windsor; the English kings Henry IV, Richard II, Henry V, and Henry VI; Henry VIII and Cardinal Wolsey from Henry VIII; Richard III and the two young princes from Richard III; and Timon of Athens, Phrynia and Timandra from Timon of Athens.
 
The uppermost register of Gilbert's image is then populated by both farcical characters and supernatural beings from Shakespeare's plays, including: the characters of Act 3, Scene 4 of Twelfth Night; Touchstone and Audrey from As You Like It; Puck and the Queen of the Fairies (Titania) from A Midsummer Night's Dream;and Macbeth, Banquo, and the Witches from Macbeth.