Thomas Couture (French, 1815–1879)
Portrait of a Man
Charcoal, heightened with white chalk, on blue woven paper, 24 1/2 x 18 3/16 in.
Signed lower right: T.C
Gift of Mrs. Noah L. Butkin
2003.1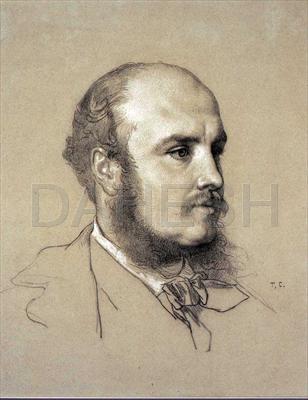 Portrait of a Man belongs to a group of portraits — a specialty of Couture — from the 1850s in which Couture shows the heads and shoulders of his sitters against a blank background, glancing sideways at the viewer. In addition, the sparkle of white in the man's collar appears in many of the artist's works.
A student of Antoine-Jean Gros and Paul Delaroche, Couture competed six times for the Prix de Rome before winning the second prize Prix de Rome in 1837. After unsuccessfully competing to win the prize two more times, he withdrew and opened his own atelier in 1847. He became an influential teacher and published his theories of teaching in Méthode et entretiens d'atelier. His students included Edouard Manet, Pierre Puvis de Chavannes, the German Anselm Feuerbach, and the Americans John La Farge, William Morris Hunt, and Eastman Johnson. Beside portraits Couture specialized in history and genre paintings.