Victor Orsel (French, 1795–1850)
Martyrdom of a Female Saint
Graphite on paper, 5 3/4 x 4 3/8 in.
Gift of DeCourcy E. McIntosh
2003.39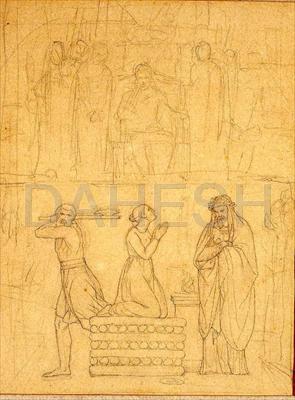 Heralded for his piety, Orsel made didactic pictures praised by Catholic leaders as successful syntheses of classical form and chaste spirituality. While in Rome during the 1820s, Orsel made an exhaustive study of early Christian mosaics and came under the influence of the Nazarenes, a group of German painters who favored Biblical subjects and whose style echoed 15th and early 16th-century Renaissance art. Orsel is best known for his monumental allegorical painting Good and Evil (1833, Musée des Beaux-Arts, Lyon), which presents the narratives of two maidens, one bound for righteousness, the other for damnation. He spent much of his later career working on a commission to decorate a chapel dedicated to the Virgin at the Church of Notre-Dame-de-Lorette in Paris. Left unfinished at his death, the commission was completed by Orsel's friend and biographer, Alphonse Périn, whose drawing of a monk is also in the museum's collection.