William-Adolphe Bouguereau (French, 1825–1905)
By the Sea,1903
Oil on canvas, 37 3/4 x 24 1/12 in.
Signed and dated lower left: W-BOUGUEREAU 1903
2013.7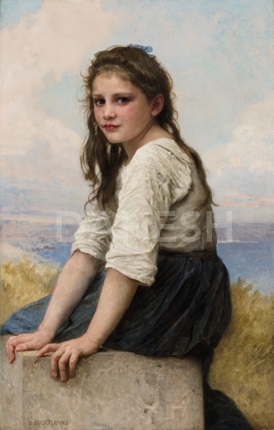 Among Bouguereau's most popular images with American collectors are his tender pictures of young peasant girls that evoke youth, purity, and beauty. As in the case of many of his works, the artist sent By the Sea in 1903 to the influential New York art gallery Knoedler & Co where it was acquired by Henry Reinhardt & Co., a Milwaukee based dealer who also had galleries in Chicago, New York and Paris. Then Richard Taylor Robinson a successful entrepreneur who studied pharmaceuticals at the University of Michigan (class of 1879) purchased the painting in 1905, and it remained in his family until it was acquired by the Dahesh Museum of Art.