William-Adolphe Bouguereau (French, 1825–1905)
Study for Charity
Oil on paper, laid on panel, 13 x 9 3/8 in.
Signed lower left: W BOUGUEREAU
1995.103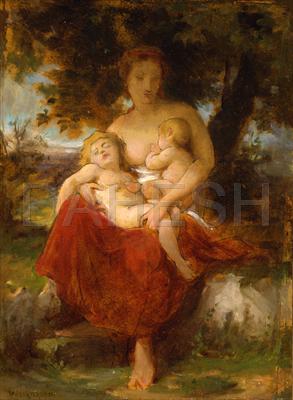 This is a study for Charity (1874, Private Collection), a painting commissioned by Samuel P. Avery, an American collector and dealer who helped bring many works by Europe's academic masters to the United States. Bouguereau's composition recalls images of the Virgin Mary with the Christ child and the infant St. John the Baptist, a theme that he painted repeatedly alongside his many tender, secular images of mothers and children. In some cases it is unclear whether a picture is meant to represent a rusticated Madonna or a sanctified peasant mother. Here Charity, one of the three theological virtues, is dressed as an Italian peasant in a pastoral environment holding two nude infants, one sleeping and the other suckling. Bouguereau may have used a female model and her children from the Italian quarter of Paris, as was often his practice.