William Didier-Pouget (French, 1864–1959)
Flowering Heather (Bruyères en fleurs)
Oil on canvas, 51 x 81 1/2 in.
Signed lower right: Didier-Pouget
1996.29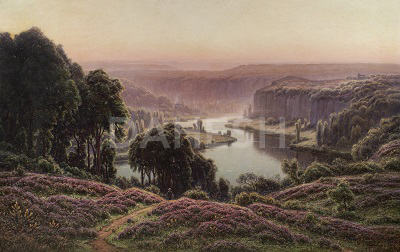 Didier-Pouget enjoyed a successful career painting his native southwestern France, especially the Creuse Valley and the Dordogne River as it flowed through its hilly environment. The artist is often grouped with the later Impressionist movement because of his atmospheric and lushly colored landscapes, although he was not a formal member of the exhibiting group. Based on his study with Amadée Baudit and Louis-Augustin Auguin — the latter a disciple of Jean-Baptiste Corot — he developed a technique that combined accurate representations of topography and nature with a sensual, painterly technique. Flowering Heather spectacularly demonstrates his most popular landscape vision, dominated by fields of heather illuminated in soft light at the end or beginning of the day.
Didier-Pouget began his studies at the École des Beaux-Arts in Bordeaux before moving to Paris. The Salon de la Société des Artistes Français accepted works by the young artist in 1886, the beginning of a long public career, and he received an honorable mention at the Paris Salon of 1890, a gold medal at the 1896 Salon on the recommendation of the eminent Jean-León Gérôme, and another gold medal at the Exposition Universelle in 1913. Official recognition included his nomination as Knight of the Legion of Honor in 1900 and promotion to Officer of the Legion of Honor in 1933.