William Maw Egley (British, 1826–1916)
Catherine of Aragon and Anne Boleyn, 1852
Oil on canvas, 49 x 61 x 4 1/2 in.
Signed and dated lower right: W. D. MAW EGLEY. / 1852
2002.23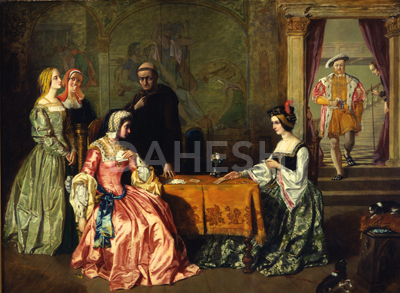 Catherine of Aragon and Anne Boleyn typifies William Maw Egley's early historical genre scenes—the noblewomen play cards, an episode invented in the 16th century by Anne Boleyn's first biographer, George Wyatt. Surrounded by her lady's maids and a monk (a reminder of Catherine's Catholicism), Catherine of Aragon has played the Queen of Clubs, while Anne Boleyn, seated alone across the table, reveals her trumping card of the King of Hearts — a subtle reference to Henry VIII, stepping through the doorway to the right, who will break with the Catholic Church in 1534 to divorce Catherine and marry Anne. When exhibited in 1853, The Art-Journal wrote: "Some portions of the picture are executed with much fine feeling, as some of the draperies, and especially the king, but others perhaps are unduly hard and the whole is deficient of depth." Similarly, The Athenaeum reported that, "No point has been neglected and such sedulousness in working out a given intention, if even it trench on prosiness in iteration and amplification, merits praise. The heads, too, have character…But Mr. Egley's figures are too much elongated and emaciated. The hollow cheeks and the bony limbs of an opera-dancer but imperfectly replace the sanctity of one refined by sorrow or the delicacy of a younger beauty in whom 'blood' predominates over more material attractions …The picture does not win the eye—it stares from the wall." Egley spent at least five months working on the image, painstakingly detailing his progress in his diaries, as was his custom (in his notes he identified this work as Katherine of Arragon).